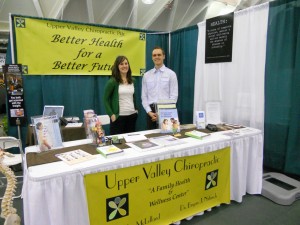 Why do pregnant women, babies, children, or even athletes need chiropractic care?  Dr. Natusch and Dr. McLelland are at the home show teaching people why it's vitally important to seek chiropractic care in these situations and others.
You can have a demonstration scan done on your neck that shows the NASA certified space technology used at Upper Valley Chiropractic to evaluate the functional efficiency of each person's nerve system.  If there are any areas of nerve interference between your brain and your body, the scan shows colors like green, blue, or even red to show the severity!
You can also see the digital foot scanning system they use to evaluate your feet and determine if you're prone to injury, fatigue, degeneration, or lack of strength and performance all based on a picture of your foot while standing!
Stop by to see some pictures of babies and kids getting adjusted for optimal health, or ask the doctors questions about how to improve the health and development of yourself or your family.  You can even find out how to get a free E-Book on their Facebook welcome page.
The show goes on Friday, Saturday, Sunday, March 25-27 2011.  See the Lebanon Chamber of Commerce site for more info.